Article originally posted on www.erieinsurance.com

(opens in new tab)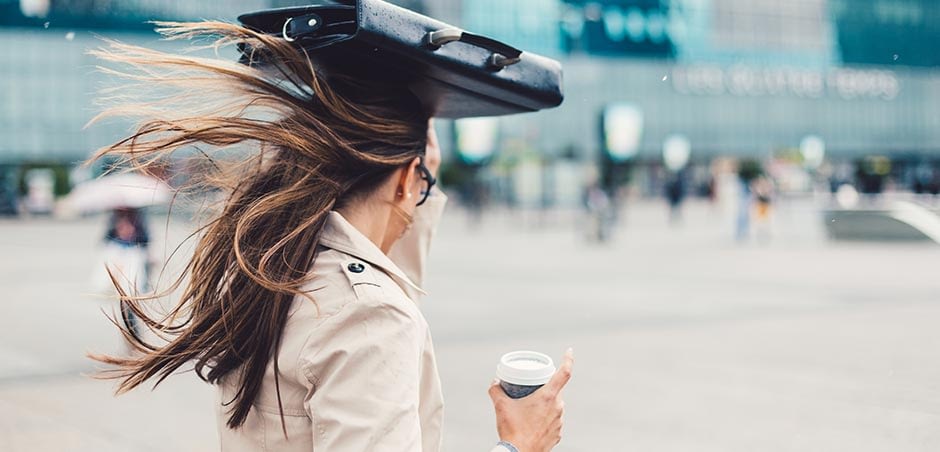 When you think of storms that can cause wind damage, your mind might jump to recovering from a tornado or prepping for a hurricane.
But it doesn't always take an extreme weather event for high winds to damage your home or car.
The National Weather Service issues a "high wind warning" when winds are sustained at speeds of 40 miles per hour or above. And there are plenty of conditions capable of producing these types of winds—including severe thunderstorms, cold fronts and atmospheric pressure variations.
When a windstorm hits, it has the potential to cause significant damage to homes and vehicles. For anyone left outside in the storm, it can also pose a threat to their personal safety.
The best way to protect yourself from high winds is to be prepared when they strike. Here are some high-wind safety tips to help ensure you're ready for whatever Mother Nature blows your way.
How Do I Protect Myself During High Winds?
Get indoors. During a windstorm, the safest place to be is inside your home. High winds turn outdoor objects into flying projectiles and can topple trees and power lines. Once indoors, avoid the temptation to watch the storm. Stay away from windows to prevent being injured by broken glass.
Take shelter. If you're unable to get indoors, you should try to find someplace to take cover. Avoid standing next to roadways or in other areas where the wind could blow you into an unsafe situation. If possible, try standing beside a building that can help block the gusts, or find a railing you can hold onto.
Pull over. If you're driving in high winds, reduce your speed and keep both hands on the wheel. Watch out for flying debris and avoid driving beside cars in adjacent lanes as the wind could blow them into your path. If the wind is making driving difficult or if you feel unsafe, pull off the road and wait for the storm to pass. Just be sure to keep your hazard lights on and park away from trees or other objects that could fall on your vehicle.
How Do I Protect My Home From High Winds?
Trim your trees. Remove any dead trees and trim branches away from your home and power lines.
Secure shutters and gutters. Any loose items secured to your home could be ripped off by a strong gust of wind. If you know of any parts of your home—like shutters, gutters or siding—that have come loose, repair them before the storm hits.
Protect windows and doors. If you live in an area that frequently sees high winds, storm shutters can be a great investment to protect your windowpanes from being broken. But you can also cover them with half-inch marine plywood, if needed.
Store outdoor items. Patio furniture, trash cans and bicycles can easily be carried away by high winds, so bring them indoors before the storm hits.
Check your roof. In high winds, your roof can take a beating. Check for any loose shingles and consider impact-resistant shingles when installing a new roof. The Federal Emergency Management Agency (FEMA) also recommends using roof strappings to anchor your home's roof framing to the wall framing. This prevents high winds from lifting the roof off your house.
Call your insurance agent. Most standard homeowners insurance policies can cover wind damage, since wind is considered a covered peril. That means wind damage to your roof, windows and siding will generally be taken care of by your insurance company. But keep in mind that once a named storm (such as a hurricane) is forecasted, it's unlikely you'll be able to get new insurance or make a policy change at the last minute. To ensure your home and property are properly covered, check in with your Erie Insurance agent before storm season starts. Also read our related article on how named storms may affect your insurance coverage.
How Do I Protect My Vehicles During High Winds?
Find covered parking. The best way to protect your vehicle is to park in a covered area. This is easy to do if your home has a garage or carport. If not, consider moving your vehicle somewhere with a covered parking deck, like at a nearby shopping mall.
Use a car cover. If you don't have access to covered parking, car covers can offer an extra layer of protection. A padded cover will prevent flying debris from scratching your paint. It may even protect against dents and broken glass caused by falling objects. Just be sure to park far away from trees and utility poles.
Get comprehensive coverage. During high winds, flying debris can cause significant damage to your vehicle. Your auto insurance may cover the damage depending on the coverage you have. When something other than a car accident—such as flying debris, a falling tree branch or a flood—damages your car, that's when comprehensive coverage would come into play. Comprehensive coverage is optional under your auto insurance policy. But it's easy to add. Just call your local ERIE agent.
Here To Help in Any Weather
Help should never be far from home. That's why every ERIE policy comes with a friendly, knowledgeable agent who lives and works in your community. Whether you need homeowners insurance, car insurance or both, we're always here to help you find the right protection.
Talk to a local ERIE agent near you to get a quote customized just for you.
A better insurance experience starts with ERIE.
Haven't heard of us? Erie Insurance started with humble beginnings in 1925 with a mission to emphasize customer service above all else. Though we've grown to reach the Fortune 500 list, we still haven't lost the human touch.
Contact Donaldson & Emerson, Inc. today to experience the ERIE difference for yourself.
Filed Under: Home Sense
|
Tagged With: Homeowners Insurance, Auto Insurance, Car Insurance, Personal Insurance